Join the revolution / Make your mark / Grow your client base
Recognizing Slixa's innovative platform and unique modern approach, we've received the nomination for Progressive Web Company of the Year at the 2014 XBiz Awards.

We're offering some great perks for entertainers who want to join during our initial launch phase.
Join the ranks of other top entertainers who have already created Slixa profiles, including Jewels Star, Adrianna Carter, Kyle Kelly, and many many, more.
Sign up now for free, and start enjoying all the benefits only Slixa can provide your business.
We're looking forward to having you on board!
Buzz
"Your site has been absolutely incredible. We are generating calls, and that means generating revenue. The layout and ads are exquisite and very user friendly, and your customer service is head over heels (pardon the pun!) above par! Thank you all for your help."

Gold Club Escorts
"I just saw my first Slixa client and it was such a wonderful experience! Your site allows me to include all the information about myself and my offerings and it has proven to work out perfectly! Thank you for really considering your entertainers and including all the little details that will help us to promote our industry with class and sophistication."

Luxy Star
LA VIP
"MyProviderGuide recommends Slixa. It's always great working with professionals who care about the clients and the industry. Great Job! :)"

MPG Staff
MyProviderGuide.com
"First client tonight from your site! Thanks! Everyone loves the site, client said how beautiful the site is and the quality is superb."

Mistress Kristina
Las Vegas Pro Domme
"OMG Slixa has in fact built a better mouse trap... The site encompasses all aspects of what the Provider and Hobbyist hope for when advertising and searching in the adult entertainment industry. Thank you Slixa!"

Magnific Media
the modern courtesans best tool... (well almost...wink)
"Had a nice review come in from a double last weekend (Brooke Taylor & Myself) and he found us on Slixa. I got Brooke to join and we both benefited. I'm already getting business from Slixa so the site is working for me!"

VIP Alluring Allison
"Great looking site with nice big images and super simple navigation. Very exciting to have Slixa on the scene! The people behind this endeavor are really great and truly care about the providers and industry as a whole!"

Brianna Sun
Discreet VIP Companion, Phoenix
"Thank you guys for letting me be part of the Slixa team. The page you allowed me to create looks beautiful, elegant, with a touch of class. I love it. Thank you so much!"

India Fox
Top U.S. Provider, Los Angeles
"[Slixa] has produced a couple of leads in a short period of time. [...] I am pleased and optimistic about the site's contribution to my lead generation."

Posh Companions
"I found the site to be very sexy and crisp. Site seems easy to use and support was fantastic and very helpful. I can't wait to start spending my marketing dollars on a site who will actively and enthusiastically promote me! Proud to be a Slixa Girl!"

Ms Charlotte Carrington
Pittsburg's Premier Redhead
---
Here's why you can't go wrong with Slixa - Guaranteed!
Free Profiles Forever
Your gorgeous Slixa profile page is yours for free even if you never purchase a single ad from us. Use it to promote your services by linking to it from other websites, ads, and social networks, or use it as an alternative to a complex and expensive standalone website.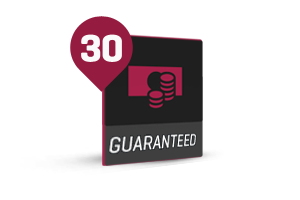 No Risk - Big Rewards
We're so positive that you'll love us that we back it up with a guarantee. If for any reason you are not satisfied with your advertising on Slixa, we will refund a full 30 days of your basic ad cost - no questions asked.
These benefits are only available to entertainers for a limited time, don't miss out!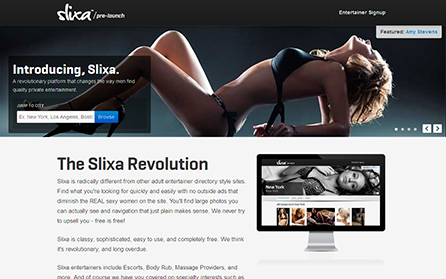 100% Focus on You
You are the one and only focus on Slixa.com. From our home page, to the search results, to your own profile page - we portray you with beauty and respect. Our only goal is to drive high quality traffic to your profile page and beyond, sending potential clients to your website, email, or phone.
---
Forget Ads, Craft a Profile
We went the extra mile to create a profile page that rivals centerfold layouts in famous magazines. You become the cover girl with Slixa's gorgeous photo spreads that beautifully presents your information and photos. Slixa profiles are nothing like the ads you've seen on other sites - incredible imagery and galleries place you in a whole new class of entertainer.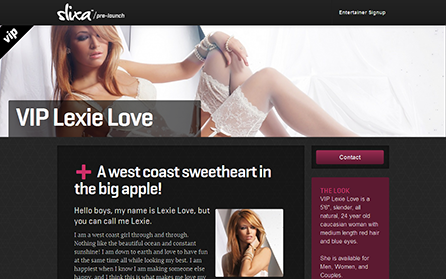 ---
More than a Square
Slixa doesn't stick you inside a tiny square thumbnail - we give you gorgeous large, crystal clear images that generate real interest, tempting users to click through to your profile. In this industry photos are the best way to attract new clients, and Slixa does photos better than any other site.
---
Full Transparency with Stats Reporting
You can do amazing things with your advertising budget when you have access to the right information. Slixa's performance stats show you how well your profile page and ads are performing in near real time. Easy to read graphs and tables show you how your changes are effecting your profile views and contact clicks. Use our stats reporting to make the most of the traffic Slixa sends you by increasing your conversion rates and turning more potential clients into regular clients.
---
Gain Credibility with Verified Photos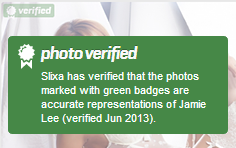 Slixa offers easy and free independent photo verification to all members who want to stand out from the crowd. Gain instant credibility with a Slixa Verified badge on your profile and ads, and let potential clients know that you really do look like your photos.
Get Bookings Right Now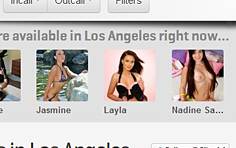 Getting more exposure with your Slixa ad is easy with our free Available Now feature. One click adds you to the top of any city page that you advertise in for a two hour period, and is a great way to pick up additional bookings when you don't have anything scheduled.
---
Powerful Status Updates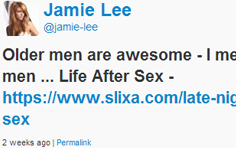 Slixa Quickies are short text updates that allow you to keep your Slixa profile page updated with bits of content throughout your day. Use Quickies to update your schedule, let fans know your thoughts and opinions, link to interesting things you find on the internet, or anything else your fans may enjoy reading about you. If you already use Twitter, Quickies can automatically pull your Tweets into your Slixa profile.
True Agency Integration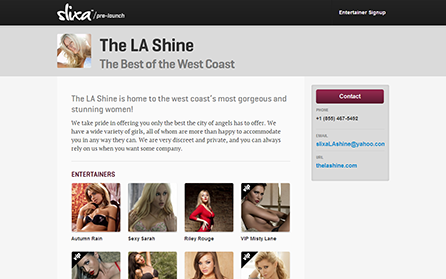 Slixa offers the unique ability to showcase both your business and your valued entertainers. Easily manage an unlimited number of entertainers from a single agency account. With easy ads management, it's simple to stay ahead of staffing changes and entertainers' availability. Plus with an agency account you'll receive white-glove treatment from your dedicated Slixa account rep who's there to assist you with custom requests, optimize your exposure and increase your marketing profitability.
---
We Keep Visitors Visiting
Slixa keeps entertainers in the minds of visitors with user friendly features that are convenient and useful. The Slixa dashboard allows site users to quickly reference all their favorite entertainers in one place to avoid the hassle of searching for you all over again or potentially forgetting your name! Slixa users can keep up to date with your most recent updates and activities through our ever-growing list of dashboard features. The Slixa team is always implementing new user features that get visitors to your profile quickly while keeping you in their minds!
Be a part of the only site that keeps the focus on you. Grow your client base the smart way!